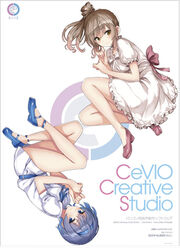 Welcome to the unofficial CeVIO Wiki, a wikia set up to cover the software CeVIO Creative Studio and related entities. The software covers speech and singing.
Important: We are looking for translators. Currently due to this issue we can only put up limited information on certain subjects, things which are considered relatively easy to translate. This leaves some areas of information incomplete. When a translator is found, more detailed information will be added to the wiki.
(See) Board:General Discussion
We apologize to readers for the inconvenience.
 ! 
Since CeVIO is relatively new to the synthesizer market, this wiki will have 'very little' content updates. It could be up to a year before it will gain momentum regarding the software and its character. Until then, if there is any information about the various derivative programs feel free to use the Forums to attempt article expansion.
Thank you
 ! 
This section is a 'Work in Progress', and is subject to changes.
Who is your favorite CeVIO character?
---
See Thread:2488 for former poll.
---
 © 
CeVIO and all related titles, logos, images and characters are ™ and © of CeVIO Project. 2012–2014.

All Rights Reserved. Original Presentation 2012–2014 CeVIO Project. The images, text, and names etc. are used for non-profit informational purposes and all copyrighted images are attributed to their authors.

 © 
Latest activity
Edit

CeVIO RSS Feed - さとうささら.com